By now, you've probably heard me talk a lot about superfoods – foods that are LOADED with essential nutrients like omega 3s, polyphenols and antioxidants. You might also know that some of my absolute favorites include foods like avocados, mushrooms, and macadamia nuts. Well on this episode I'm joined by Catharine Arnston, a wellness thought leader and entrepreneur, who says there's a more groundbreaking superfood on the radar – and it's one of the most exciting yet. In fact, she says it could be bigger than collagen – and NASA has even referred to it as the answer to world hunger! We're talking all about ALGAE. Catharine and I discuss how certain types of algae can be used to support your energy levels, immune response, skin health and so much more. We also explain how algae works to fill nutritional gaps, and ultimately, how it might help support your immune system to set you up to handle serious illness. On this episode you'll learn: One of Asia's longest-kept longevity secrets – and how YOU can use it to support your energy levels, immune health, and more (8:00) The two types of edible algae you MUST know about – and how to determine which one is right for you (10:00) How to feel full for HOURS on end without ever stepping foot in the kitchen (bonus:it's extremely healthy) (12:00) Catherine's "detox" trick for dodging a hangover, boosting muscle recovery, and ridding your body of harmful toxins (16:30) Why eating WHOLE flax seeds is a total waste of money – and the right way to benefit from these powerful seeds (22:00) Why you're likely not getting enough of the right nutrients (yes, even if you eat TONS of veggies) – and what you can do about it (26:00) The new and exciting research on edible algae and COVID-19 – and what it could mean for YOUR health (36:00) My thoughts on eating CACTUS – and how to best prepare it at home (45:00)
Get back to that pre-COVID feeling.
Vaccinated or not, toxic spike proteins pose a long-term threat to your health.
This revolutionary Spike Support Formula is the only product that contains nattokinase and dandelion root, researched to block and dissolve spike proteins inside your body.  – CLICK HERE or below… 🔥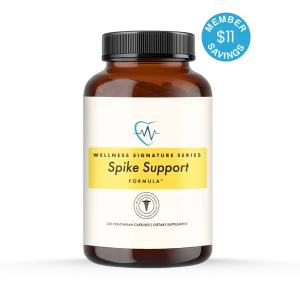 Do all you can to protect your health – see The Wellness Company – get online prescriptions, video-doctor visits, prescriptions, and feel your best with unique supplements and doctors who put you first.  –  CLICK HERE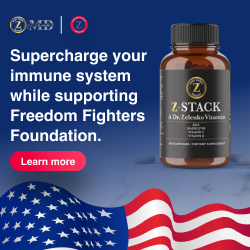 Come on over to Whatfinger News – our main page – it is a news junkie's paradise and Greatest Aggregate on Earth – Bar none!  CLICK HERE or below – We tell you EVERYTHING that is going on… no fear!